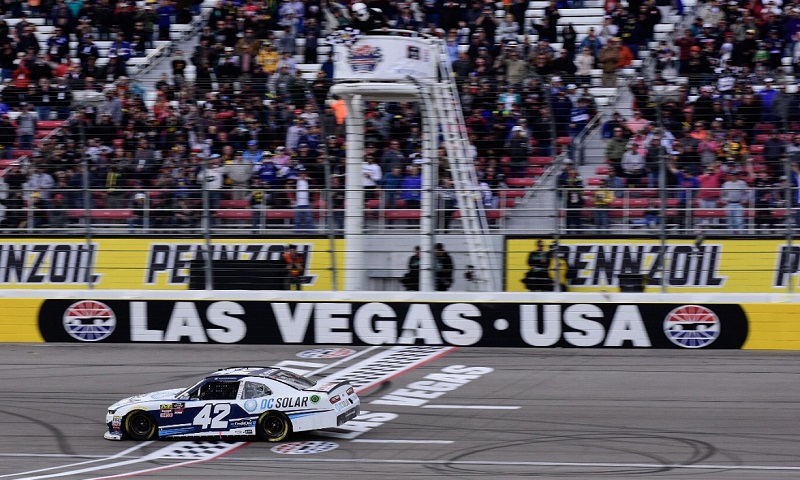 LAS VEGAS — Kyle Larson got one back on long-time friend and rival Christopher Bell on Saturday afternoon, avenging his tough Chili Bowl Nationals loss in January with a win in the NASCAR Xfinity Series at Las Vegas Motor Speedway.
Larson raced to the checkered flag in dominating fashion, as well, leading a staggering 142 of 200 laps en route to his ninth career series win and first since Dover Int'l Speedway in June of 2017.
Though Bell charged late to steal the opening stage win, Larson battled back and led every green flag lap in the second stage, seemingly setting himself up nicely for the stretch run to the finish in the second half.
A solid pit stop under the second stage break put Larson second for the restart at lap 99, but it wasn't enough as Ryan Blaney took control for Team Penske and led 33 straight laps before the challenge came again from behind.
Larson methodically bided his time behind Blaney before making his move, retaking the top spot with 73 to go and pulling away over the next eight laps, before a spinning Austin Cindric slammed the wall on the inside of turn two to draw the caution.
That sparked another round of pit stops, in which an uncharacteristically slow stop by Larson's Chip Ganassi Racing crew dropped him from the lead to eighth.
"My guys are one of the best on pit road. I guess they said the left-rear wouldn't come out," Larson said. "I had been fighting a tight issue all day. Finally we got our car turning better when we had to come from eighth so that allowed me to get to the lead fairly easy."
However, Larson wasn't about to let that stop him from getting back to the front. Green flag conditions returned with 62 to go and saw Justin Allgaier push Cole Custer to the lead before swooping around him one lap later.
Meanwhile, Larson took just 10 laps to return to the top three, passing Blaney for second in the next trip around and seemingly taking the point for good with 49 to go after he dispatched Allgaier at the head of the field.
Fuel was a growing concern, as Larson was definitively told by crew chief Mike Shiplett that they could not go the distance without saving, but a caution with 16 laps left finally erased those worries after Ryan Reed smacked the wall with help from behind by Ford stablemate Kaz Grala.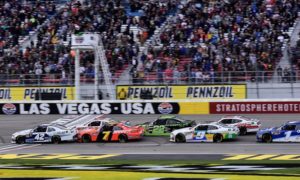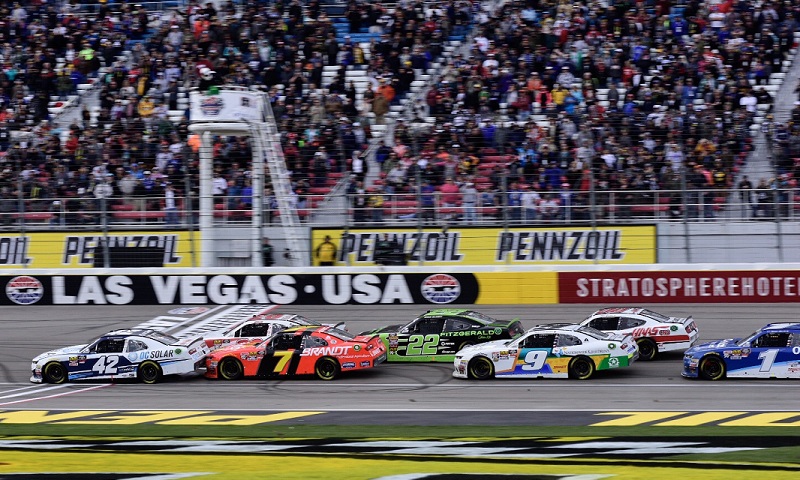 That drew the field down pit road for their final round of service, with Tyler Reddick actually getting off pit road first, but Larson soared back to the point when the green flag flew with 11 to go — all thanks to a push from Bell — and was scored the leader when Ross Chastain went spinning in the back of the pack to draw one last caution flag.
From there, Larson controlled a seven-lap dash to the checkers and crossed the line .881 of a second in front of Bell.
"I wasn't sure if he had a bunch of wheel spin or if I just got a real good push," Larson said of Bell. "Justin (Allgaier) did a great job pushing me on that last start. I actually had Bell push me real good the start before to get in front of Reddick and Blaney.
"What an awesome day for DC Solar. I think this is their first win. I'm glad I could get them their first win in the Xfinity Series. I can't thank everybody enough."
Bell offered a shout-out to Keith Kunz/Curb-Agajanian Motorsports co-owners Keith Kunz and Pete Willoughby after climbing from his Toyota on pit road, saluting the two men who gave both himself and Larson their big breaks in motorsports.
"I hope Pete Willoughby and Keith Kunz were watching that," Bell smiled. "They were the two that put both me and Kyle on the national scene. It's really cool to be able to run one-two."
Allgaier completed the podium in third, ahead of Blaney and Elliott Sadler.
Hometown favorite and Friday night Truck Series winner Kyle Busch rallied back from two laps down late in the going, finishing on the lead lap in 14th despite a pass-through penalty under green for improper fueling.
Busch took a wave-around under the Reed caution and then got the free pass during the final yellow of the day.