This season he has set career highs in both top-five finishes (8) and top-10 efforts (14) in 17 Super DIRTcar Series starts, while ranking fourth in the standings.
"It's a big deal for us, how we're running this season," McLaughlin grinned. "We're having successful finishes, we're clicking off (local) wins and contending on tour wherever we go. It's really awesome to be running like we are now. We've needed a year like the one we're having this year."
During every step of the process, the first generation of McLaughlin racing blood has been by his son's side, something Max McLaughlin calls "pretty freaking special."
"It's really cool to have my dad working with me in all of this the way he's been able to. Most father-and-son duos don't really turn out the way that we have," noted McLaughlin. "We work together every day; we always have. My career is as much mine as it is his, because without him I wouldn't be doing any of this. He's taught me everything I know driving-wise, working on the car … everything that I do, I try to mimic my dad, so it's cool to carry his legacy and build my own at the same time.
"He's always right by my side; I don't think he's missed a race … ever," McLaughlin continued. "It's pretty cool to have him right there with me and to have the whole HBR team let him come along, include him in the team … and now he's working for them and going wherever I go. It's an awesome feeling to be able to drive for one of the most-accomplished teams in dirt racing and to have my dad right there by my side while I'm doing it."
McLaughlin says he's learned skills running in the big-block ranks that he feels will make him more successful if and when he's able to race full time in NASCAR.
"The biggest thing that I've really picked up is how to be aggressive, but at the same time not burn your stuff up and save for the end of the race," McLaughlin explained. "The Super DIRTcar Series is all about long races. When I first came to the series, I'd set quick time and I could win every heat race, but I could never run well in the features because the top guys are so good at driving at 100 percent but still saving that little bit for the end. You see a lot of non-series guys come in and they'll lead the first 30 laps of the race but finish 17th. But the Friesens, Sheppards, Deckers, Johnsons and Brittens of the world are always there at the end.
"That right there is what the big blocks teach you and you can apply it anywhere, really. NASCAR is all long races and you see guys like Kyle Busch and Harvick always be there at the end because they know how to manage their equipment and I think that's a huge thing that I've learned over the past few years."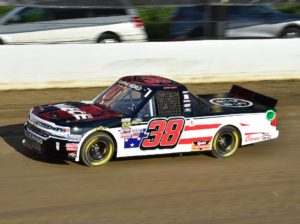 McLaughlin's projected career arc is most similar to the one that fellow Super DIRTcar Series competitor and rival Stewart Friesen has made over the past two years, proving the road from Northeast dirt to NASCAR can be a successful one.
"Look at Stewart; he's doing awesome in the Camping World Truck Series and he grew up racing big blocks and still does any chance he gets. I think they're a huge tool and they're very tough to drive," said McLaughlin. "I always say that if you can drive one of these, you can drive anything, so hopefully I can put that to the test soon."
McLaughlin made his NASCAR Truck Series debut at Eldora Speedway in July with Niece Motorsports and finished 12th. He was announced as a development driver for the team early in the year and hopes to continue with them, though the immediate future is a little murky.
"I don't know where we're going to end up, honestly. I don't know what the future plans are," said McLaughlin of the Al Niece-owned team. "We've stayed in contact with the truck team; we've been working with them a lot, but we're doing everything in our power to have a few more races this year."
Friesen has continued to drop back and run his big-block modified as often as possible in spite of his busy Truck Series schedule. That's a philosophy McLaughlin wants to adopt as well, as he moves through the ranks.
"I'm a racer at heart. Any time I can get in a race car, no matter what it is, I'm doing it," he said. "I live it; I eat, sleep and breathe it, so any time I have the opportunity to get in a race car, you'll see me there. It doesn't matter if it's a four-cylinder, outlaw kart, NASCAR, World of Outlaws … whatever it is, I'll drive it."
As he grows and matures, however, McLaughlin continues to reflect on all the hurdles he and his father have overcome to get to this point.
By all accounts, the son has never been more motivated to make his father proud and prove he belongs at the top levels of motorsports.
"My dad has given up everything with his life for me to be where I'm at, and I don't plan on giving up until I'm satisfied with my career," stated McLaughlin. "I don't see that time coming in the near future, that's for sure.
"I'll do whatever it takes to get to the next level, not only for me, but to make my dad's sacrifice worth it. That's my goal and what I strive for every day."