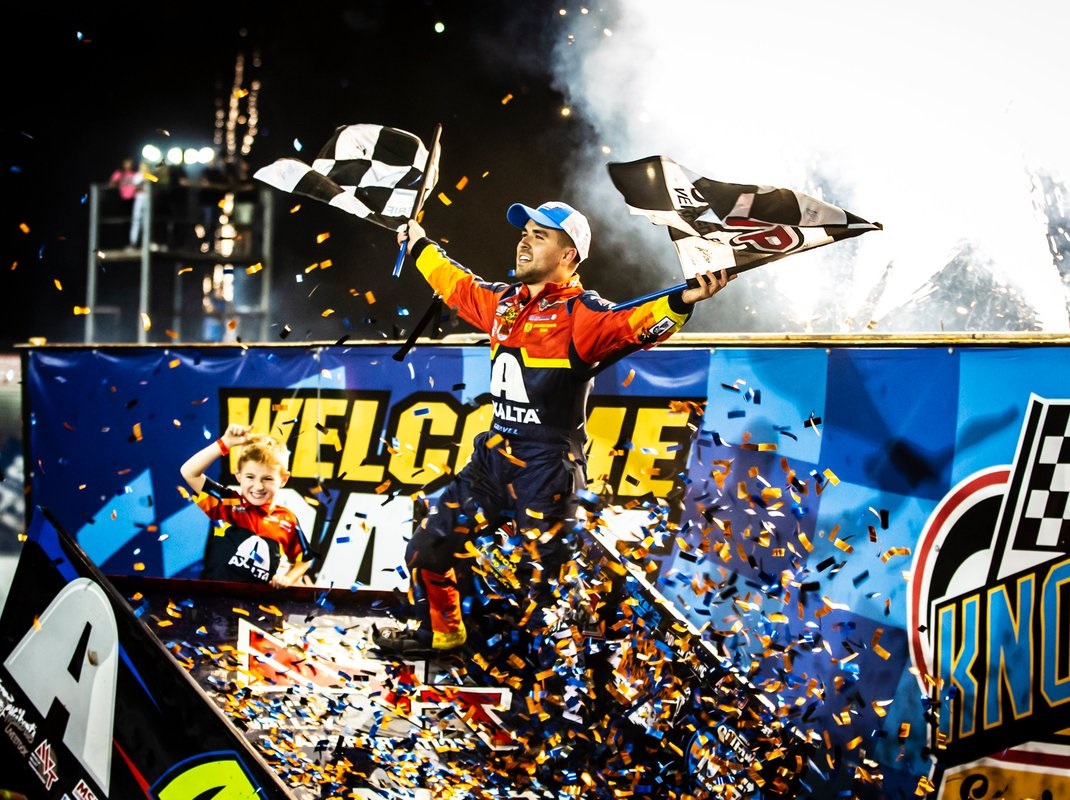 KNOXVILLE, Iowa – After being robbed of a Knoxville Nationals victory by an engine failure two years ago, David Gravel got his long-awaited storybook ending on Saturday night.
Gravel completed a sweep of Nationals Week with a dominant run in the 50-lap NOS Energy Drink Knoxville Nationals presented by Casey's General Stores finale. He took the lead from polesitter Aaron Reutzel with a turn-three slide job on lap 14 and never looked back, leading the rest of the way for his first Nationals triumph.
The Watertown, Conn., native became the second first-time winner of the Knoxville Nationals in as many years, banking $150,000 for the historic victory.
Following the halfway break, Gravel was virtually unstoppable, running out to a straightaway advantage and ultimately taking the checkered flag a whopping 4.632 seconds in front of his nearest pursuer.
Saturday night's rout came after Gravel won the Capitani Classic on Sunday and his preliminary night feature on Thursday. He joins Brad Sweet as the second-straight driver to sweep through Knoxville.
"Jason wanted to win, and we f-ing did it!" said Gravel, who won the second Knoxville Nationals title for Jason Johnson Racing. "This is awesome. I don't know what to say. It was a dream week.
"Brad Sweet killed it last year, and we kind of repeated it this time around."
To add to the special story, Gravel's Nationals victory came less than a year after team namesake and 2016 Nationals winner Jason Johnson was killed in a racing accident at Wisconsin's Beaver Dam Raceway, and also came in the first weekend for new sponsor Axalta onboard the No. 41 JJR sprinter.
Four-time NASCAR champion Jeff Gordon helped broker the deal to get Axalta to sponsor Gravel and the Johnson team, and victory lane on Saturday night was swamped in a sea of rainbow colors.
"To have Jeff Gordon, Axalta and everyone here … for Bobbi (Johnson, Jason's widow) to keep this team going, and for Phillip (Dietz, crew chief) to bust his butt and push that much harder after losing his best friend – you can't make this stuff up, man," Gravel noted. "It's a hell of a group here and it feels amazing.
"I'm numb; I wasn't that tired in the car, but after I took the checkered … it all sunk in and I felt like I had boulders on my shoulders," he added. "It's surreal and it doesn't feel real."
Though two early cautions – one on lap four for the stopped machine of Dominic Scelzi and a second on lap six for a slowing Donny Schatz – slowed the pace in the first half, the second 25 laps was run uninterrupted following the three-minute halfway break and Gravel had no challengers in that stint.
"I was happy to get the lead there before the halfway break, because after that I felt like I could control my own destiny," explained Gravel. "We made an adjustment to snug up a bit, and that made the car even better. Thank you to Jason for building this team, because he's what this is all about. It's unreal.
"We freaking did it."
After racing his way into the Knoxville Nationals during Friday's Hard Knox program, Logan Schuchart rolled off from the outside of row 11 – 22nd starting spot – and carved his way through the field.
Schuchart came up 13 positions to ninth by the halfway break, and then continued his romp in thrilling fashion. He found the top five by lap 29, cracked the podium with 10 to go and finished his drive to prominence with a last-lap pass of Daryn Pittman to come home second behind Gravel's winning mount.
Unsurprisingly, Schuchart earned KSE Hard Charger honors for the Nationals finale, advancing 20 positions during the course of the championship A-main, but simply had no time to chase Gravel.
"To start off the week the way we did was tough, but I said after Friday night, when you put this team on the ropes they come back swinging," Schuchart said. "Second at Eldora hurt, but I'm really proud of this one. Congratulations to David and Jason Johnson Racing, to win this race and overcome what they have.
"This is one of those things that you dream about as a little kid, and it's a dream come true to get to drive these things," Schuchart added. "I'm just happy to be a part of such a great sport. We didn't quit."
Pittman completed the podium for Roth Motorsports, followed by Tim Kaeding and Reutzel, who faded to fifth after leading 11 of the first 13 laps.
Defending Nationals winner Brad Sweet was never a factor for the win and finished sixth, just ahead of Sheldon Haudenschild and recent 360 Nationals champion James McFadden.
After having to go to the work area to address a power issue, Schatz rallied back over the last 44 laps to finish ninth – the first time in 16 years that he hasn't run among the top two in the Saturday A-main.
Last year's Nationals Rookie of the Year, Gio Scelzi, completed the top 10. Scelzi ceded that title to Tanner Thorson, who ran 20th in the B-main and was the top first-year driver at this year's Nationals.
Joey Saldana, who led laps two and three after an early battle with Reutzel, faded to 14th in the Ed Neumister-owned No. 12n.
To view complete race results, advance to the next page.