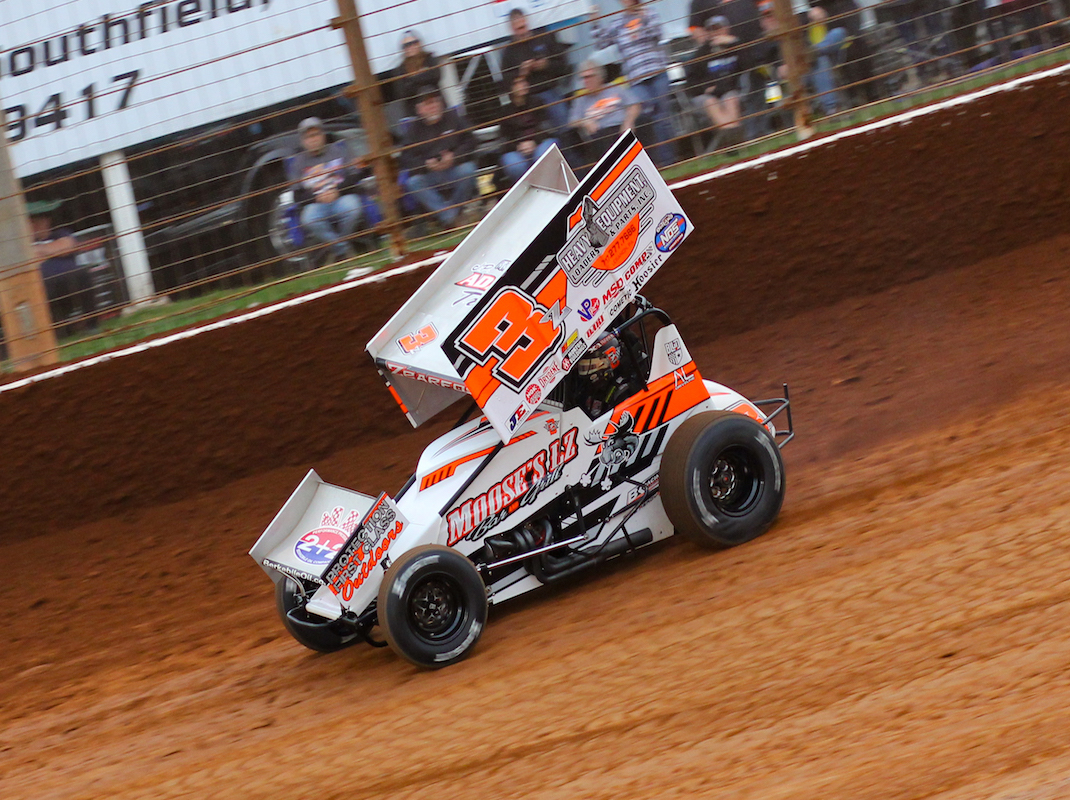 JONESTOWN, Pa. – With less than a month separating himself from the official kick-off of his 2020 campaign, the 'Jonestown Jet' Brock Zearfoss is excited to announce his plans for the new year, launching in traditional fashion with All Star Circuit of Champions and World of Outlaws Sprint Car Series competition in the Sunshine State.
Zearfoss, who will pilot the Brock Zearfoss Racing/Moose's LZ Bar & Grill/Heavy Equipment, Loaders & Parts Inc./C&D Rigging Inc./BAPS Auto Paints & Supply/Meckley's Limestone Products/Berkebile Oil Company/Klick Lewis Cars, J.P. Adamsky Trucking/No. 3Z sprint car, will participate in 109 nights of action in 2020 including each and every All Star Circuit of Champions program, once again throwing his hat into the ring for a Series title. All Star commitments will send the familiar No. 3Z to 55 events in 11 states with 17 of those 55 races awarding a minimum of $6,000.
In addition to his full-time status with Tony Stewart's All Stars, Zearfoss will also join the World of Outlaws on an occasional basis, participate in select 360 sprint car showstoppers such as the King of 360s at East Bay Raceway Park and 360 Knoxville Nationals at Knoxville Raceway, as well as join the infamous Pennsylvania Posse on an on-and-off again basis, most notably during Pennsylvania Sprint Speedweek.
Including two rounds of open practice, Brock Zearfoss will ignite 2020 with 12 straight nights of action beginning with five consecutive nights of All Star Circuit of Champions and World of Outlaws competition at Volusia Speedway Park in Barberville, Florida, on Wednesday through Sunday, February 5-9 (Tuesday, February 4 is open practice). Zearfoss' Florida campaign will continue immediately following his Volusia visit, as East Bay Raceway Park, just south of Tampa, will host the All Star Circuit of Champions on Monday and Tuesday, February 10 & 11.
Open practice on Wednesday, February 12, will act as a slight breather for the former Port Royal Speedway champion, as three days of King of 360s action opens at East Bay on Thursday, February 13.
Fans should note that Brock Zearfoss' plans for the month of March are subject to change, as the truck route may be altered to fit in World of Outlaws Sprint Car Series competition in Texas and Arizona on March 13-14 and March 21-22, respectively.
"We have a lot on our plate, but we are ready for it," Brock Zearfoss said, who was a three-time All Star feature winner in 2019. "To have the opportunity to put together a schedule like this says so much about my team and our partners. Shane and Tye are the hardest working crew in the pit area, and my partners continue to believe in me and what we are trying to achieve. I wouldn't be in this position without them. I'm excited to see what the new year brings us."
Other marquee events on Zearfoss' 2020 plans include Let's Race Two and Kings Royal weekends at Eldora Speedway, Lernerville Speedway's Silver Cup, the Brad Doty Classic at Attica Raceway Park, the coveted Knoxville Nationals at Knoxville Raceway, Port Royal Speedway's Labor Day Classic, the historic National Open at Williams Grove Speedway, and the season-ending World Finals at The Dirt Track at Charlotte.