LAS VEGAS – Nearly a week after her breakthrough super late model victory at The Bullring at Las Vegas Motor Speedway, 20-year-old Kayli Barker remains atop a strong wave of emotions.
"I'm still riding high," Barker told SPEED SPORT. "This win means so much to me. I mean, my dad used to take me out to the Bullring and I've grown up at the race track since I was pretty young. It's certainly been emotional over the last week since we finally got the job done, for sure."
Barker took down a historic victory in the Chris Trickle Classic on June 16, holding off six-time track champion Scott Gafforini to become the first woman to win a NASCAR super late model event at the three-eighths-mile oval.
A full invert placed her on the pole for the back half of twin 35-lap features and she never looked back despite losing braking power during the waning laps of the event before Gafforini's last-gasp effort.
"We had a brake line blow during the second half of the race, so I actually had no brakes in the closing laps," Barker explained. "I was having to pump them all the way down the straightaways in hopes that I might have them going into the corners. That allowed Scott to catch me on the last lap, and I knew he would bump me, but I trusted him enough not to wreck me in the process because he doesn't drive like that and he's been at this a long time.
"Going through (turns) three and four, he was hitting me and hitting me, so I just waited for him to hit me straight, then floored it to the line and ended up winning it," she added. "It was a crazy ending, but I'm thankful that it worked out for us the way that it did."
Barker, a five-year veteran of the super late model class at the Bullring, admitted that she planned on her first win in the track's premier division coming sooner than it did.
"I was hoping it would be quicker, but the first year I ran super lates I was running double-duty between that class and the Super Stocks, so that year was a bit different because we had our focus on the Super Stock and actually won the championship that year," Barker noted. "The next year, we had a new car built and fought the dreaded 'new car blues' trying to get things where I wanted them, so it's been definitely been a process to put all the pieces together and get to the point where we could win."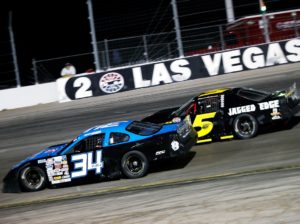 In fact, last Saturday's win – the 16th of Barker's Bullring career – snapped a five-year drought for her at the Nevada short track.
"It's been a long five years, I know that," she laughed. "I'm just glad that the first win is behind me now and I don't have to wait any longer for that win. It's definitely a victory that I've wanted for a while."
Aside from the historical value of the win, Barker's triumph was special on additional levels as well.
"I've watched Scotty race for as long as I can remember, so for it to be him that I ended up holding off for this win … it was perfect, in a sense," she said. "The competition out here is so tough. A lot of people have additional crew members, but for me, it's just my dad and I. It's pretty tough, but we finally did it."
While she's balancing a hectic college schedule – preparing to transfer back to the University of Nevada at Las Vegas and shift her major to Psychology – Barker plans to continue racing and hopes to add more super late model wins to her resume in the near future.
"We have the car pretty good now, so I hope that we can get another one before too long," said Barker. "We don't want to get stuck in the headspace of thinking we're going to go out and dominate every week … but we've put in a lot of hard work and we know we're capable of taking some trophies home now, which is the point we've been pushing to get to over the past few seasons."
She also has her eyes set on the national stage, noting a desire to eventually compete in the NASCAR Camping World Truck Series.
"My ultimate goal is to race against the best that the Truck Series guys have to offer, but I need a couple million dollars before I can do that," she pointed out. "If I can find a sponsor to help me get there, I'd love to make it happen … because I checked our couch cushions and that's definitely not in there."
"I've been putting a lot of pressure on myself in recent months to get this (first super late model win) out of the way and really prove myself again," Barker continued. "I've been in a slump and this takes a huge weight off, but next race it will be right back on again. You're only as good as your last time out."
She'd also like a championship too, if the circumstances fell her way to achieve one.
"I try not to look at the points. I stress myself out when I do," she laughed. "We'll just see what's next."
Barker wasn't the only female driver to win at a NASCAR Home Track last weekend, either. Jessica Dana picked up her first Limited Sportsman win at South Boston Speedway with a pass of Trey Crews coming to the white flag.