IRWINDALE, Calif. – After a tumultuous two-year period that saw the Irwindale Event Center scheduled for demolition and nearly lost to West-Coast race fans, the historic short track's future appears set for years to come.
The Southern California motorsports complex, which includes a half-mile paved oval, third-mile paved oval and eighth-mile drag strip, was scheduled to close its doors on Jan. 31, but got a new lease on life from retired three-time track champion Tim Huddleston and his Justice Brothers distributorship.
Huddleston, with additional support from NASCAR K&N Pro Series West champion team owners Bob and Maureen Bruncati, took over the track lease just prior to the start of the new year and promoted Irwindale Speedway this year – the first of at least two seasons for his group at the helm of the historic short track.
While Huddleston grew up as a driver at the half-mile, 2018 marked his first time as a track promoter, something he noted came with a hefty learning curve along the way.
"For us, this has been a whole, big learning experience. I tell people that it's fun to go to Disneyland, but now that we work at Disneyland, it's a little different," Huddleston told SPEED SPORT during the NASCAR Touring Series Awards on Dec. 7. "I have a whole new respect for track operators and promoters, what they do and what the back side of a race track looks like.
"We're super excited about the future and we have a whole lot of new things going on," he added. "The good news, though, is that we're able to keep it, it's there, it's balanced and it's working. Now, we're hoping to make it even better going forward."
Huddleston noted that the impending demolition date for the facility, which was scheduled to be turned into an outlet mall, was the shove his family needed to take charge of the situation and step up to save their home track.
"The wrecking ball sitting out front made us open our eyes. It's one of those deals where when everyone else stood back from the picking line, we were still standing there," Huddleston admitted with a laugh. "We figured that someone had to step in and do it, so we did. We didn't want this place to go; I've raised my kids there and we knew that it was a great facility with a lot left to give.
"The place just needed someone to roll up their sleeves, get in there and do the work … so we did."
Luckily, Huddleston didn't have to go into the venture alone. The Bruncatis, who his son Trevor drove for on the full K&N West tour this year, stepped up to offer support as co-promoters for the track.
"My wife, Lisa, and I … when we partnered up with Bob and Maureen, we went in 50/50 and couldn't have done this without them. I couldn't have done it 100 percent; there's no way," Huddleston said. "Bob and Maureen Bruncati are two of a handful of people that put their own money into the racing careers of kids that they don't even know. A lot of times, it's family, friends or benefactors … but Bob and Maureen are special people because they spend their money on other drivers and on bettering the sport. They've done that with their K&N (West) teams and they've done it here. It's so special."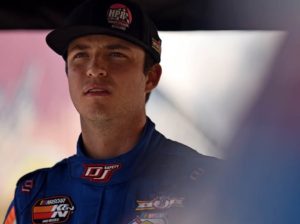 Trevor Huddleston, 22, went on to overhaul his father with his fourth-straight track and California state championships this season, placing himself among the best drivers to ever turn a wheel at Irwindale.
For Tim Huddleston to have been a promoter of the race track this season when his son surpassed him made the moment all the more special.
"It's pretty awesome to watch Trevor go and surpass pretty much everything that I ever did at Irwindale," said the elder Huddleston. "He's broken my track records, tied the record in championships and he's getting pretty close, I think, on the win total … and that's really exciting for me and for us as a family. As a parent, you always want your kids to do better than you did. It's a dream come true."
Next season will see Irwindale's oval track schedule begin with a visit by the NASCAR K&N Pro Series West on March 30, alongside 12 stock car nights for the NASCAR Whelen All American Series divisions and other events as well, including concerts and non-racing programs to "keep the budget balanced."
It's part of a multi-year contract that Trevor Huddleston noted at the NASCAR Hall of Fame will keep the track going "for five years now," a far cry from the year-to-year contracts it had been operating under.
For Tim Huddleston, just knowing that the track's future is secure is more than enough.
"I would never have dreamed we'd be here, doing what we're doing now," he admitted. "I was at the groundbreaking ceremony in 1998 when they started to build the place and have been at most every race since in one fashion or another, but I never dreamed it would turn into what it has for our family.
"I'm tickled to death. It's awesome, it really is."