IRWINDALE, Calif. – Eight Toyota Racing Development drivers converged on California's Irwindale Speedway for a three-day combine this week and left with a bevy of knowledge, valuable on-track experience and hope for their racing futures.
The unique event was held Monday through Wednesday at the paved Irwindale half-mile, with the competitors going through classroom training and seat fittings on the first day before embarking on several 25-lap group practice sessions on Tuesday.
They then returned for a series of four 75-lap qualifying races on the final day. The top two from each of the two qualifiers faced off in a 50-lap, four-driver championship race. During the on-track action, the drivers were fitted with a monitor that checked their vitals.
Six females and two males comprised the eight TRD drivers invited to the combine, ranging in age from 13 to 23.
The male participants were 13-year-old Jesse Love and 16-year-old Tanner Carrick, who have both spent time in multiple divisions of short track racing over the past several years.
The female contingent was made up of Maria Cofer, 19; Holley Hollan, 16; Presley Truedson, 16; Jessica Dana, 23; Lexi Gay, 17; and Brittney Zamora, 18.
Cofer, Hollan and Truedson have backgrounds in dirt midget racing, while Dana is a former member of NASCAR's Drive for Diversity program. Gay and Zamora race late models in the NASCAR Whelen All-American Series.
Carrick won two of the four qualifying races, while Love and Zamora each collected one qualifier victory. Love, the youngest competitor at the combine, then raced to the victory in the championship finale to cap off the two-day event.
For the 13-year-old from Menlo Park, Calif., who has spent time in late models, sprint cars, midgets and won last year's 51FIFTY Energy Drink Junior Late Model Series championship, the combine experience left him beaming from start to finish.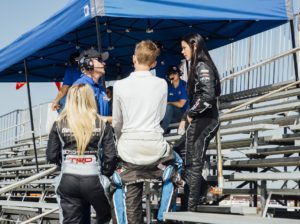 "Man, this was beyond cool. Right off the bat, Tim Huddleston (driver coach) gave me a great car and we were really quick. It never fell off," said Love of his car in the final race. "Tanner (Carrick) got the early lead. We came to the green and the car slid out a little a bit. He got the lead and I knew we were good in the beginning … but then he started yarding me a little bit and I got nervous.
"After that, we started amping it up a little bit I started listening to Tim – he's been racing here for so long – so once I started listening to him, I backed up my entry and we were a little bit faster than Tanner," Love added. "We were just fortunate to take home the win. I'm glad we were able to be here and in first place. Just really happy to be able to drive for (Tim) Huddleston this week. It's a great car and hopefully we'll be back."
Cofer was the first female driver to ever capture the Bay Cities Racing Association (BCRA) Dirt Midget Series championship and made her Keith Kunz Motorsports debut over the weekend in POWRi competition, in the No. 97 entry usually wheeled by Spencer Bayston.
She was one of the TRD drivers who wasn't as familiar with just how much Toyota put into their driver development program before the combine.
"I had some knowledge, but I didn't have a ton," admitted Cofer of the TRD program. "I definitely followed them and have a lot of friends who are their drivers. I knew of them and their program, but I didn't know everything it entails.
"This last two days has shown me a lot," Cofer added. "It's shown me how to be presentable at all times – that's a big deal here. How to be open minded and take things as they come or as they go and kind of having that one step at a time mentality has also been important."
Off the race track, the eight drivers spent time going through cognitive tests and other training with several top members of Toyota's short track brass, including Jack Irving, the director of team and support services for TRD, and Tyler Gibbs, TRD's Senior Vice President and General Manager.
While one of Irving's expressed goals in recent years has been a push for diversity and to identify potential female talent in motorsports, he was left duly impressed by every one of the eight participants.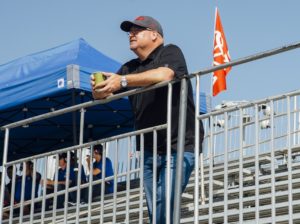 "(The combine) was ridiculously good. All the kids were awesome," said Irving. "To go through the last two days and everything they were put through, all the sport science stuff that they had to deal with and then come out here and run as many laps as they did. For some of these kids, running 200 laps is a ton and they did great, they did amazing.
"The competition was really good and they raced really clean, which was nice … and not something that I totally expected," Irving added. "It was a good day and the kids that had a little bit of adversity in the beginning did a really good job bouncing back. That was definitely something we wanted to see."
For Love, who left as the arguable 'winner' of the three-day affair, he simply expressed gratitude to have been invited, just as his seven peers did throughout the week.
"It feels great. I'm just really blessed to be here," noted Love. "For Jack (Irving), Trent (Rodriguez) and Tyler (Gibbs) to be able to invite me out here – it's just really cool. I feel really fortunate and very humble to be a part of this.
"It's been really cool and hopefully we'll be back."