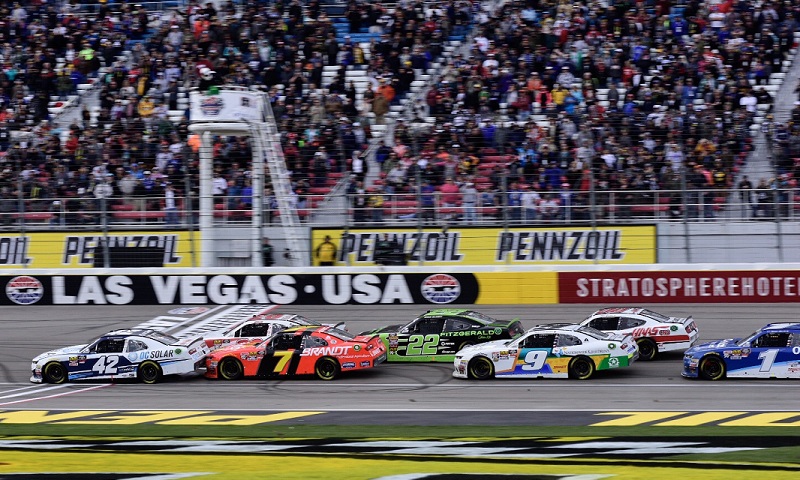 Though Bell tried to work the high lane on the final seven-lap sprint to the finish, this time it was Larson who fended off every advance en route to a dominating victory, after leading 142 of 200 laps for Chip Ganassi Racing.
"I wasn't sure if he (Bell) got some wheel spin, or I just got a great push by Justin (Allgaier)," said Larson in victory lane. "He did a great job pushing me on that last start. Actually, Bell pushed me really well the start before though, when I got ahead of Reddick and Blaney."
"I had a lot of fun racing Christopher. He beat me there early, but we struggled on scuffs and I figured once we could get stickers (fresh tires) on we'd be better. Once we got to the third stage, we were really good and sure enough, it all worked out for us."
While the third time was finally the charm for Larson in his rivalry with Bell, the latter showed little disappointment in finishing second to his long-time friend.
"We were close; it just wasn't quite enough," admitted Bell. "Running second to Kyle – if I'm going to run second to anyone, I would rather it be him."
"It would have been nice to get up there and get the lead, but I knew if I could get him out there that we'd be able to race it out. That was really cool and there will be a lot more of that."
Larson admitted afterwards that while winning Saturday wasn't a salve for the Chili Bowl win that got away after his motor expired, it still put a smile on his face to come out on top over Bell for a change.
"This isn't revenge for Chili Bowl because we didn't get to race that one out, but it's still pretty cool," he said. "We're always pretty even in dirt cars, but he always seems to beat me. It's nice to have one back, for sure."
He also paid a nod to Bell's race craft, continuing to showcase the immense respect that each one has for the other.
"He's so hard to pass because he just doesn't make mistakes," Larson acknowledged. "It's always a blast to race him."
Though they never raced midgets full-time together, with Larson having already jumped to the NASCAR Xfinity Series by the time Bell chased (and won) the USAC National Midget title in 2013, the duo have traded sliders and raced with the best whenever they could – and continue to do so any time they catch a break in their now-hectic stock car schedules.
After Saturday, however, it appears that those kinds of battles are likely to extend across both surfaces – dirt and pavement.
And even though the number of days that they can race together on the dirt are much fewer and further between now than they were several years ago, Bell made sure that the two men who helped propel both of them into the national spotlight weren't forgotten either.
"Man, I hope Pete Willoughby and Keith Kunz were watching this, because they were the two that put both me and Kyle on the national scene and it's really cool to be able to run one-two like we did today. That's a pair of Keith Kunz Motorsports alumni, right there."
"It was a blast to do what we did today … just like the dirt days. That was as good as it gets right there."
And if that's the case, then the entire racing world ought to be on notice, because what's next will likely be just as much of a show as Bell and Larson have already produced before.