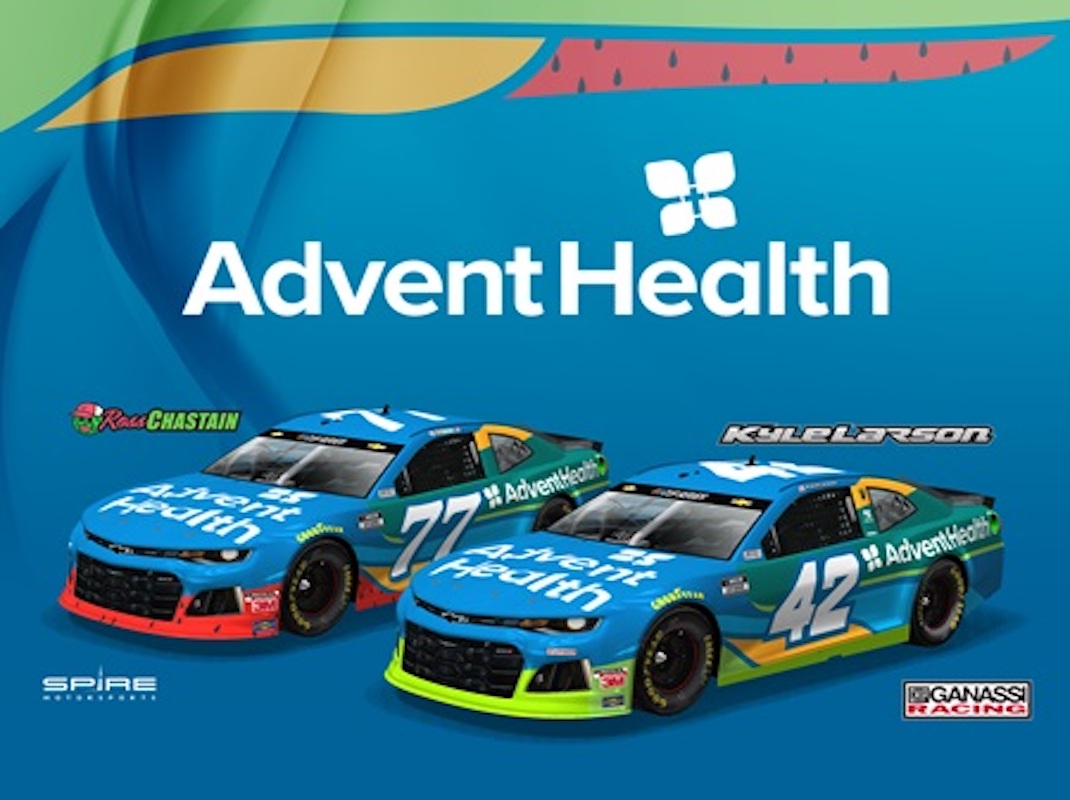 AdventHealth, one of the nation's largest faith-based health systems, continues to expand its relationship with Chip Ganassi Racing (CGR) by once again teaming up with Kyle Larson on the No. 42 Chevrolet Camaro ZL1 for two races during the 2020 season.
AdventHealth is also teaming up with Florida-native Ross Chastain on the No. 77 Chevrolet Camaro ZL1, prepared by CGR, in conjunction with Spire Motorsports, for starts at the DAYTONA 500 and the Coca-Cola 600 at Charlotte Motor Speedway.
Larson, CGR and AdventHealth have a history of winning. Previously, and quite memorably, Larson and AdventHealth partnered in 2019 for the All-Star Race weekend, where Larson won the Open race to transfer into and ultimately win the All-Star Race.
AdventHealth will be on Larson's No. 42 Chevrolet for the Clash at Daytona, and later in the season when the NASCAR Cup Series heads to Kansas Speedway for the Fall playoff race. AdventHealth has a significant business presence in both markets.
"It's great to have AdventHealth back with the No. 42 team for some races in 2020″ Larson said. "It was awesome to win with AdventHealth on our car at the All-Star Race, in their first race with the 42 team, and I hope we can have more exciting races with them this year. They have been a great partner, on and off the track, and I'm glad to see our relationship continue."
Florida-based AdventHealth will support Chastain, who continues to be a CGR development driver, in a Spire Motorsports entry as he makes his second career DAYTONA 500 start, following a 10th place finish in last year's race. Chastain will also run the No. 77 AdventHealth Chevrolet in Charlotte for the Coca-Cola 600, while juggling full-time duties in the NASCAR Xfinity Series in 2020.
"To have the opportunity to run the DAYTONA 500 is awesome, and it's great to do it this year with AdventHealth on board my car" Chastain said. I've only had one start in the DAYTONA 500, and can't wait to run that race again in what I know will be a competitive car. I'm also looking forward to racing the Coca-Cola 600. That's another iconic race that all of us want to win."