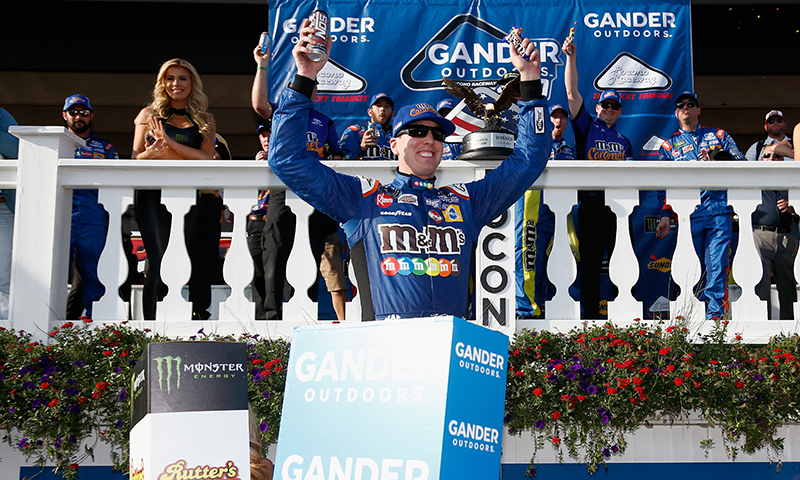 LONG POND, Pa- For the sixth time in the 2018 Monster Energy NASCAR Cup Series season Kyle Busch drives into victory lane, winning the Gander Mountain 400 at Pocono Raceway on Sunday afternoon.
After failing post qualifying inspection the day before, the 2015 series champion started the race in 29th position. The Joe Gibbs Racing driver wasted no time making his way to the front. All in all, the Las Vegas native led 52 of the 164 laps to score the victory.
After a string of cautions in the late moments in the race, the driver of the No.18 M&M's Caramel Toyota Camry held off a hard charge from his young JGR teammates of Daniel Suarez and Erik Jones in overtime to secure the win.
"What an awesome race." Kyle Busch said. "Harvick was the best car, we were the second best car and I think Suarez was the third best car. He gave us a run for our money there on this last couple of restarts. On the last one, I spun my tires a little bit too much and he got a really good run..I think that gave Jones the opportunity to make it three-wide down into turn one. Then those guys got to racing and just kind of let me get away. I can't say enough about Adam Stevens and all of my guys, this car was awesome..we had a lot of speed all weekend."
This marks Kyle Busch's 49th career MENCS victory, tying him with former teammate Tony Stewart for 13th on the all-time wins list.
"That's awesome. Man.. you just keep climbing up the ladder and you keep reaching more milestones with drivers. tony Stewart is one of the all-time best and one of the drivers I was a fan growing up as well. It's awesome being able to tie him. There are many more on that list we want to get ahead of but Tony is a great friend and it's pretty cool to get that. What's crazy with how the season has gone is, Harvick gets a win, I get a win, Truex gets a win.. we wouldn't have won this weekend if we didn't have the fastest car and that's all that matters."