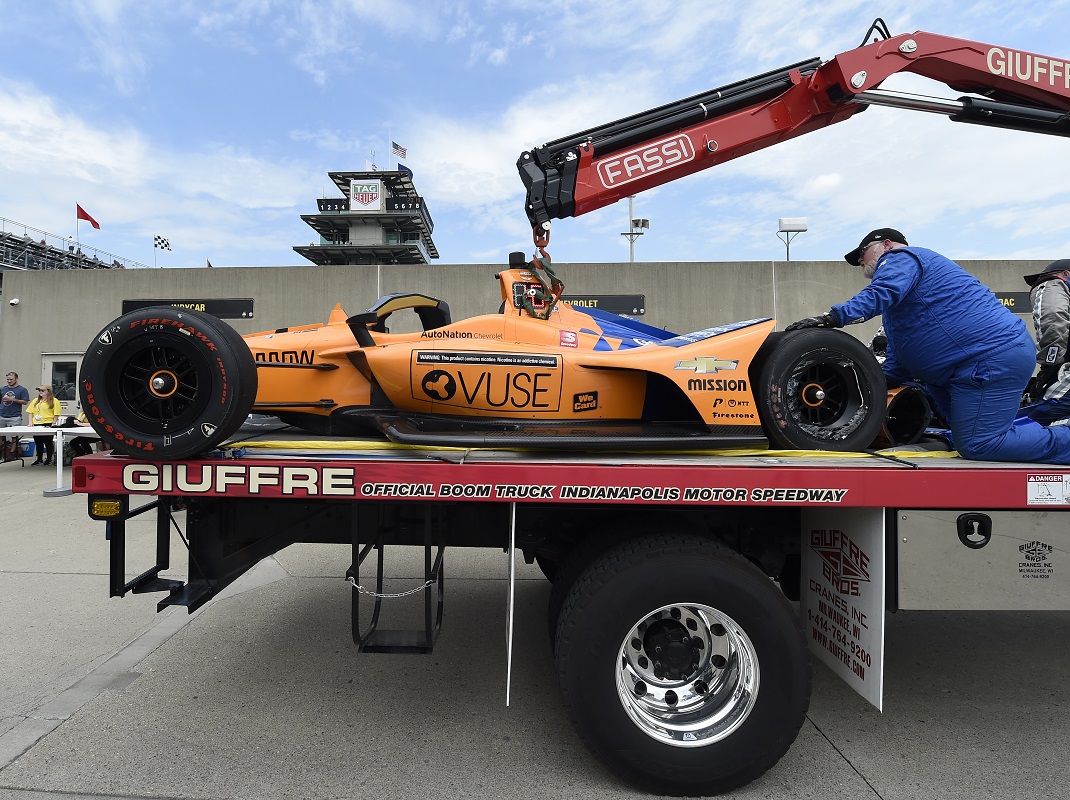 INDIANAPOLIS – After a clean day of running during Tuesday's Opening Day activities, the 2.5-mile Indianapolis Motor Speedway oval claimed its first crash victim of the Month of May on Wednesday.
Two-time Formula One World Champion Fernando Alonso became the first driver to suffer a major on-track incident when he smacked the outside wall in turn three just over 90 minutes into practice.
After his No. 66 McLaren Racing Chevrolet suffered understeer and pounded the SAFER Barrier right-front first, Alonso spun down into the grass, caught air and then tagged the inside wall with the back end of the car. He finally slid across the track in turn four and hit a third time with the front wing.
Alonso immediately exited his machine under his own power, and was later checked and released from the infield medical center. His crew was making adjustments at the rear of the car before the incident.
"It was understeer on the car, and even if I lifted the throttle on the entry of the corner, it was not enough, and I completely lost the front aero," Alonso explained. "The wall came too close and too quickly after that. … I'm sorry to the team, but we will learn and hopefully come back stronger tomorrow.
"I'm disappointed and sad for the team and for the guys."
The McLaren team has not made a decision as of yet whether they will repair their primary car or switch to a backup car for the remainder of the month. McLaren has two cars available for the Indianapolis 500.
"We're just going to hover around the car here and assess the situation and make a decision [on whether to switch to the spare car] in the coming hours," McLaren sporting director Gil de Ferran told RACER.com. "We'd been fighting understeer this morning, and it looks like he just understeered into the wall and that was that."
Alonso agreed with that assessment of the events leading into his shunt.
"I think it was just pure understeer that I didn't expect," he noted. "I was running a bit close to another car and suddenly mid-corner, I completely lost the front grip. I tried to lift off and avoid the wall."
Prior to his crash, Alonso had turned a fast lap of 225.433 mph and had visibly improved from his limited running on Tuesday, which was hampered by electrical issues for the McLaren entry.
"It felt much better than yesterday. Definitely, we were moving in the right direction," Alonso noted. "It was small steps that we learned today that hopefully we can bring for next time. I'm sorry for the guys."
Despite the setback, Alonso remained calm as he looked ahead toward the task of getting ready to qualify for the Indianapolis 500 on Saturday.
"There is nothing you can do," said the Spaniard. "These things happen in motorsport. Better (it happened) today than on the 26th (race day). Let's see what we can do tomorrow, now."