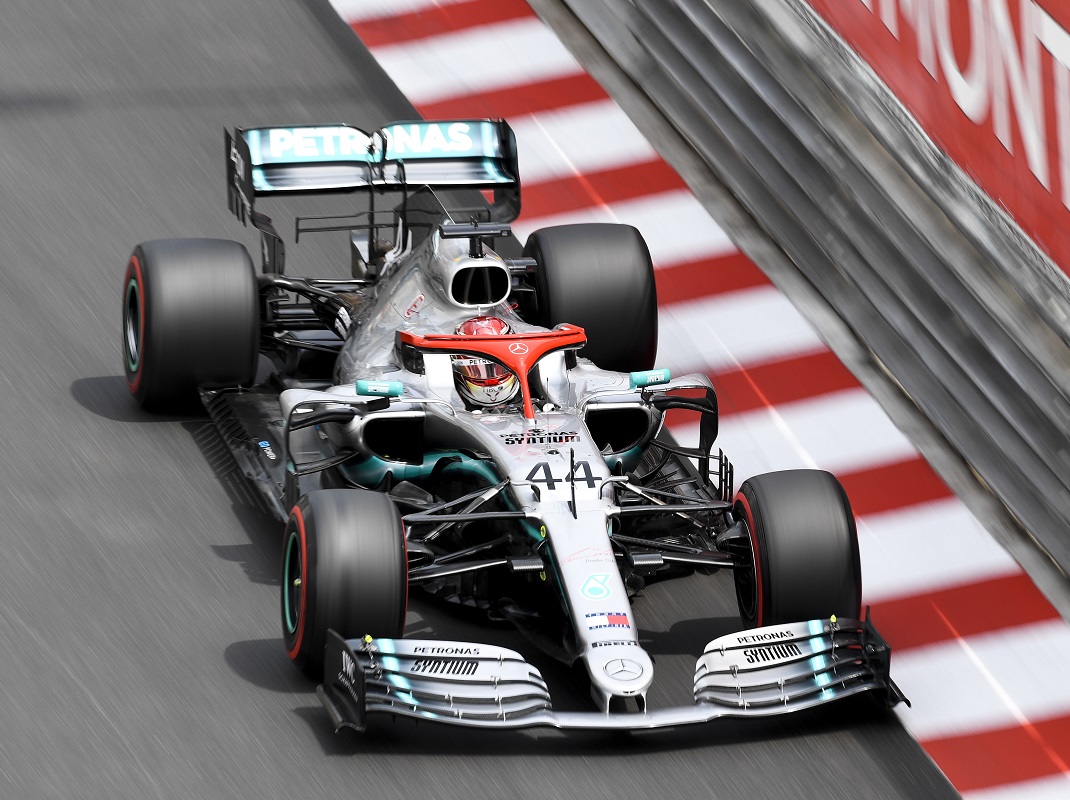 MONTE CARLO – Lewis Hamilton nursed a set of fading medium tires home and held off a series of furious charges from Max Verstappen in the closing laps to take his third Monaco Grand Prix victory on Sunday morning.
Hamilton, who made his lone pit stop under a safety-car period on lap 12, went the final 67 laps without stopping again and later survived contact with Verstappen at turn 10 with two laps left to bring home the win.
Sunday's victory was the 77th of Hamilton's Formula One career and his fourth in six races this year.
It was also a fitting tribute to the late Mercedes No-Executive Chairman and three-time F-1 champion Niki Lauda, who passed away last Wednesday at the age of 70.
"That was probably the hardest race (win) I've ever had," said Hamilton. "I was definitely fighting with the spirit of Niki today. He's been such an influential person with our team in getting us to where we are today, so I know he's looking down and taking his hat off today. I just was trying to focus and make him proud. That's been the goal all week.
"My god, that was – I've not driven on empty tires since, I think Shanghai in 2007 when McLaren left me out for a ridiculous amount of time," he added. "It was super tough, but a really fantastic result."
Though Verstappen ran second on the road for virtually the entire distance Sunday, in effect, he was fourth on time due to a five-second time penalty for an unsafe pit release during the safety-car period.
That clash between Verstappen and Valtteri Bottas on pit lane allowed Verstappen to leap the second Mercedes, but it came at a price and meant that Verstappen was trying to pass Hamilton and get up the road in an effort to still secure the win.
Several dives at the hairpin in the final 10 laps didn't pay for the Red Bull driver, leading to a desperation heave on lap 76 at the Nouvelle chicane that saw Verstappen tag Hamilton off the track briefly, though both were able to continue on.
That was as dramatic as the final stages got, with Hamilton cruising home to victory after that and Verstappen demoted to fourth behind Ferrari's Sebastian Vettel and Bottas when the penalty was applied.
"It was close," Hamilton said of Verstappen's move. "He made a bit of a late dive. Luckily, I saw him last minute … but he wasn't really – I think his front wheel was alongside my rear wheel, so he wasn't fully past me. It was a light touch, and we both moved on."
Vettel came in 2.602 seconds behind Hamilton, with Bottas' third-place result ending Mercedes' run of five-straight one-two finishes to open the season.
Verstappen and his Red Bull-Honda teammate, Pierre Gasly, completed the top five.
McLaren's Carlos Sainz crossed sixth, followed by the Toro Rosso pair of Daniil Kvyat and Alexander Albon, the Renault of 2017 race winner Daniel Ricciardo and the Haas of Romain Grosjean.
Home favorite Charles Leclerc had a miserable day after starting 15th in the second Ferrari. He moved up to 12th early, but he suffered a tire puncture at lap eight which ultimately ruined his afternoon.
Leclerc retired with floor damage from the shredded tire after completing just 16 laps on Sunday.
The finish:
Lewis Hamilton, Sebastian Vettel, Valtteri Bottas, Max Verstappen, Pierre Gasly, Carlos Sainz, Daniil Kvyat, Alexander Albon, Daniel Ricciardo, Romain Grosjean, Lando Norris, Kevin Magnussen, Sergio Perez, Nico Hulkenberg, George Russell, Lance Stroll, Kimi Räikkönen, Robert Kubica, Antonio Giovinazzi, Charles Leclerc.